site version is
page last edited on 20030520
page was never integrally checked for link correctness
---

---
Manufacturers of sensors
---
ACX
Active Control eXperts
---
Alan-Bradley
(Owned by Rockwell)
---
Alps
Alps Electric Inc.

3553 N first St

San Jose, CA 95134

USA

tel: +1-408-432-6000
---
Analytical Industries
Analytical Industries Inc.

2855 Metropolitan Place

Pomona, CA

USA

tel: +1-909-392-6900

fax: +1-909-392-3665
Oxygen Sensors for industrial and medical applications and ...
---
Crossbow
Crossbow Technology, Inc.

41 E. Daggett Drive

San Jose, CA 95134

USA

tel: +1-408-965-3300

fax: +1-408-324-4840
---
DT
Detection Technology, Inc.

See DT
Radiation detectors and their related electronics.
---
FillFactory
FillFactory NV

Schalienhoevedreef 20B

B-2800 Mechelen

Belgium

tel: +32-15-446333

fax: +32-15-446344
Off-the-shelf and custom CMOS image sensors.APS solutions for ultra high speed, high resolution, radiation hardness, ...We make the sensor for your image!
---
HYB
Hipot-HYBRID

Trubarjeva 7

SI-8310 Sentjernej

Slovenia

tel: +386-68-81397

fax: +386-68-81397
HIPOT HYBRID, Production of hybrid circuitsand sensors, has 20 years experience in theproduction of custom thick film hybrids and8 years experience in the production ofsensors for medical applications.
Production program:
Thick film hybrid circuits
Industrial pressure sensors and transducers
Medical pressure sensors
---
Honeywell Sensing and Control
(Used to be called MICRO SWITCH until about 2000).

Their industrial inductive and capacitive proximity sensor product line was sold to Pepperl+Fuchs around 2000/2001.
Honeywell Sensing and Control, Inc.

11 W. Spring Street

Freeport, IL 61032, USA

tel: +1-800-537-6945 - free in the USA

tel: +1-815-235-6847 - International

fax: +1-815-235-6545
---
ISSYS
Integrated Sensing Systems

387 Airport Industrial Drive

Ypsilanti, MI 48198

USA

tel: 734-547-9896

fax: 734-547-9964
Integrated Sensing Systems designs, develops and manufacturesultra high sensitivity MEMS* pressure and flow sensorsas well as pressure and flow sensing systems.
---
MAAS Neotech
MAAS Neotech

16 ave Boileau

B1040 Brussels

Belgium

tel: +32-2-7402106

fax: +32-2-7065179

sales@maasneotech.com - request proposals

dreamteam@maasneotech.com - join us
MAAS Neotech is an innovative ASIC and MEMS design operation that sells own components as well as design and characterization services. MAAS Neotech is routinely taking responsibility for clients'projects and commits to measurable targets taking specific priorities of the client into account to provide the most suitable solutions. Products include CMOS imagers, wind sensors, pressure sensors, flow sensors... MAAS Neotech is also developing products based on a patent pending inexpensive micropumping technology which revolutionizes a number of biomedical and food-related applications. We believe in fully integrated microsystems including sensing microdevice and associated microelectronics.
---
Micropto
Micropto S.r.l.

V. M. Melloni, 10

I-20129 Milano

Italy

tel: +39-2-7601-1848

fax: +39-2-7640-8519
Micropto designs, realises and commercialises optoelectronic devices,photransistors, photodiodes, pressure and chemical sensors inmicroelectronic and micromachining technology, emitters, LED dices (NIR & VIS),VCSEL, LASER, shaft encoder disk (glass, policarbonate, metal, ...) incrementaland absolute, special packages (epoxy, ceramic, metal, ...), plastic opticalguide waves, optical filters, customer lenses, ...
---
MICRO SWITCH
Now called Honeywell Sensing and Control.
---
NAiS
Matsushita Electric Works Automation Controls Company
Actuators, connectors, relays, sensors, switches
---
Nanotron
Nanotron, Inc.

616 West 24th Street

Tempe, AZ 85282

USA

tel:+1-480-966-9006

fax:+1-480-966-9182
Manufacturer of high quality low cost electrolytic tilt sensors,patent pending products.

Pricing from $7.00 each depending on tilt range, quantity and resolution.
---
Omron
Japanese company working in the industry automation field,but also a big manufacturer of relays and sensors.
---
Orenda Services
This company no longer exists. (20021115)
---
Otron
Otron System Co., Ltd.

10F 10067 Kukje Electronics Center

1445-3 Seocho-Dong, Seocho-Gu,

Seoul

Korea

tel: 82-2-525-8720

fax: 82-2-3486-8795
Manufacturer and exportor of gas sensors, gas detectors (portable and fixed)and shut-off devices.Our catalytic combustion gas sensors, which are the core part of gas detectors,detect LNG, LPG, iso-butane, methane and etc.
---
Pepperl+Fuchs
Twinsburg, Ohio

USA

tel: +1-330-425-3555
They bought the industrial inductive and capacitive proximity sensor product line from Honeywll Sensing and Control around 2000/2001.
---
Photobit
Photobit

2529 Foothill Blvd.

La Crescenta, CA 91214

USA

tel: +1-818-248-4393

fax: +1-818-542-3559

sales@photobit.com - sales

busdev@photobit.com - business development

hrm@photobit.com - employment related inquiries
CMOS Active Pixel Sensors

Digital camera chips

Low power photodetectors

VLSI Design Services
Photobit is the world leader in high performance CMOS activepixel sensor (APS) electronic image capture technology.

CMOS APS-based cameras and APS imaging devices are developed byPhotobit for a wide variety of applications using technologydeveloped at NASA's Jet Propulsion Laboratory and exclusivelylicensed by Photobit.

CMOS APS has many advantages over the25-year old CCD technology including 100x lower power dissipationand 10x improvement in system miniaturization.

With a verticallyintegrated technology base, Photobit offers a wide spectrum ofproducts and services for advanced electronic image captureincluding custom image sensor design.
Photobit was founded in early 1995 by Dr. Sabrina Kemeny, one of theoriginal inventors of the CMOS APS technology.

The company was formedas an LLC (Limited Liability Company) in November 1995.
Photobit has exclusive rights to the CMOS APS intellectualproperty developed at Jet Propulsion Laboratory through a licensefrom the California Institute of Technology (Caltech).
Leading the Active Pixel Revolution!
---
---
Quantum
Quantum Research Group Ltd.

651 Holiday Drive

Pittsburgh PA 15220

USA

tel: +1 412-391-SENS (-7307)

fax: +1 412-391-7367
UK:
Quantum Research Group Ltd

1 Mitchell Point

Ensign Way, Hamble

Southampton SO31 4RF

UK

tel: +44-23-8045-3934

fax: +44-23-8045-3939
Makes sensors and sensor IC's - capacitive proximity sensing IC's.
---
Seiko
See Seiko.
---
SensoNor
(Established in 1985. Probably means: Sensors Norway)
SensoNor

Knudsrødveien 7

P.O.Box 196 N-3192

Horten

Norway

Tel: +47-33035000

Fax: +47-33035005
USA:
20 Californa St. 6th Floor

San Francisco, CA 94111

USA

tel: +1-415-986-6059

fax: +1-415-986-6025
SensoNor is today one of the world's leading designers and volume producer of sensors and devices based on silicon micromechanical technology (MEMS).

It is unique in the fact that in addition to its own multi-disciplined MEMS design team the company has its own waferfab and high volume backend production and test facilities.

The company is renowned within the global car manufacturing industry having supplied in excess of 45 million crash sensors for air-bag deployment systems. The car manufacturing industry remains a key market for the company which is today supplying its third generation crash / rollover sensors and sensors for the important task of vehicle tire pressure and temperature monitoring.
---
Suni
Suni Imaging Microsystems, Inc.

185 East Dana St.

Mountain View, CA 94041

USA

tel: +1-650-237-1060

fax: +1-650-968-6721
Suni Imaging Microsystems, Inc. has made intraoral dental XRAY chipssets for the dental field. The company pioneered this technology and hasmade the first film size sensor which is now used world wide in PC basedsystems. These sensors reduce the XRAY exposure to the patient by about80-90%. They also remove the whole expense of costly chemicaldevelopment and the environmental hazards caused by these chemicals asthe sensor images appear on the screen of the dentists PC instantly!

Schick Technologies currently markets these products. We do not make thePC interface software etc.

We are also involved in designing Ultra high speed CD ROM and DVD chipsets and camera-on-a-chip devices aimed at the high volumn consumermarkets such as piont and shoot digital cameras etc.

We use a proprietary mixed signal CMOS and CMOS/CCD technology.
---
Telaire
Telaire

6489-A Calle Real

Goleta, CA 93117

tel: +1-805-964-1699

fax: +1-805-964-2129
$300 CO2 monitors using IR (info: 1993)
---
Temic
(Since 20010612 for 60% owned by Continental AG, Hannover.)
Oil sensors and other auto parts.
---
Top-Vu
See Top-Vu
---
U.S.Sensor
U.S. Sensor

1832 W. Collins Avenue

Orange, CA 92867

tel: +1-800-777-6467

fax: +1-714-639-1220
U.S. Sensor is a world class manufacturer of an extensive variety of the highest quality thermistorsas well as thermistor probes and assemblies. The company's products include NTC and PTCthermistors which are produced using proprietary state of the art processing techniques.Customers world-wide use U.S. Sensor thermistors in their most demanding applications.
---
Companies applying sensors
---
Infiltec
Infiltec

PO Box 8202

Falls Church, VA 22041

USA

dsaum@infiltec.com - Dave Saum
Air Infiltration Measurement and Control Technologies
---
See also
---
Accelerometers
---

Date:    19960918
From:    Tehmosp Khan
To:      Recipients of 6811 mailing list
Subject: Re: Accelerometers?

You're in luck! Motorola's XMMAS40G10x comes in a 16 pin dip package, is a micromachined accelerometer reading +/-40G linear, with .1G resolution if I remember right. Output is a voltage, the device requires +5V.
I have samples, but haven't worked with them yet.
kwd...


Any idea on price or where mere mortals can buy them? Last I checked,
DigiKey wasn't a Motorola distributor.
GB

Check out Analog Devices. ADXL50 is a 50g sensor and ADXL05 is a 5g sensor. Both these come with an evaluation kit.
Tehmosp
Tehmosp Khan
Slope Indicator Company
3450 Monte Villa Parkway Bothell, WA 98021-8906 USA
Voice: (206) 806-2200 FAX: (206) 806-2250

---
CO2 detection with IR diodes
---

Date:    19960903
To:      PIC's mailing list at parallaxinc.com
From:    Ray Gardiner
Subject: Re: [PICS] IR Diodes for CO2 detection

Has anyone seen very long wavelength infra red diodes (2325 cm-1 or 3500cm-1) in their travels? I wish to use them to measure carbon dioxide in a room. I will be using either a PIC or a STAMP.

There was an article in New Scientist last year hailing the breakthrough in long wavelength IR diodes by some team at Cambridge UK. I wrote asking for more info but only got a reply from some guys wanting to sell me IR sensors for >$1000.

If they were 'real' they should be appearing in the next year or so. As a commercial product. Meantime I think tungsten filament is the cheapest IR source going at present. You can run low volts, and extend the lamp life.

Anyway if you find a supplier, I for one am **very** interested.

Regards,
Ray Gardiner, 104 Macintosh Street, Shepparton, Victoria 3630, Australia

---

Date:    19960902
From:    DSaum@aol.com
To:      pics@parallaxinc.com
Subject: Re: [PICS] IR Diodes for CO2 detection

In a message dated 19960902 Peter Grey writes:

Has anyone seen very long wavelength infra red diodes (2325 cm-1 or 3500cm-1) in their travels? I wish to use them to measure carbon dioxide in a room. I will be using either a PIC or a STAMP.

I use some carbon dioxide sensors for building ventilation measurements. They have LCD readouts (0 - 2000 ppm) and voltage outputs. They are from a company called Telaire in Goleta CA and they cost about $300.
They use IR absorption, but as far as I can see without taking them apart the light source has visible output that is filtered to get the IR band of interest.

Dave Saum
Infiltec
Building Airtightness and Radon Mitigation
/www.nmaa.org/member/infiltec/

---

Date:    19960903
To:      pics@parallaxinc.com
From:    Peter Grey <martech@ozemail.com.au>
Subject: Re: [PICS] IR Diodes for CO2 detection

I have heard of this as well and suspect a commercial company has grabbed
this. Have tou worked with the tungsten filament for CO2 detection? If yes
what did you use for a detector? Have you ever considered the IR movement
detectors?

If I see anything I shall post it here.

Peter Grey
Neosystems, Australia

---
See also
---
Other sites with a database of products and their manufacturers

---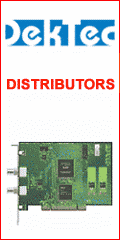 ---
---