site version is
page last edited on 20030712
page was never integrally checked for link correctness
---
---
Magazines about electronics
This page is meant for paper magazine's only.
Look here for magazine-like WWW sites.
Magazines in other languages than English:
---

---
Magazines in English but aimed at certain area's:
Miscellaneous:
---
---
Electronics magazines in the English language
---
Asian Sources
Glossy free (?) magazine to promote Asian electronic products.

---
Computer oriented

---
C/C++ Users Journal, the
R&D Publications Inc.
cujsub@rdpub.com
pjp@plauger.com - P.J. Plauger, Editor

---
Circuit Cellar Inc.
Vernon, Connecticut, 860-875-2751
ken.davidson@circellar.com - Ken Davidson, Editor
Mostly microcontroller/embedded related. Very good. Includes many times tutorial articles (DSP, Image processing, driving LCDs, driving stepper motors etc.). It started as a very succesful column in Byte magazine.

---
tel: +1-508-681-6660 - Subscription info
They publish a 'Reference Guide'.

---
Computer Applications Journal, the
Circuit Cellar Ink
PO Box 7694
Riverton, NJ 08077-8784
tel: +1-609-786-0409

---
Computer Design
(CD)
One Technology Park Drive
PO Box 990
Westford, MA 01886
tel: +1-508-692-0700

---
Computing Japan
Japan's only English language computer magazine with about 3 years of back numbers on the web for anyone to read (i.e., it's free!).

---
Computer Journal, the
PO Box 535
Lincoln, CA 95648-0535
tel: +1-916-645-1670
tcj@psyber.com

---
Computer Product News
See CPN

---
Computer Product News
PanEuropean Publishing Company

---
DDJ
Dr. Dobb's Journal
Miller Freeman Inc.
411 Borel Avenue
San Mateo, CA 94402
tel: +1-415-358-9500
71572.341@compuserve.com
The Programming Magazine

---
Electronics Business News

---
Electronic Design

---

(Original meaning: Electrical Design News)
Cahners

---
Electronic Distribution Today

---

Electronic Engineering Times (EE Times)
500-B Bi-County Boulevard
Farmingdale, NY 11735
USA
tel: +1-516-293-3000

---
Electrical Design News
See EDN

---
Electronic Business
Cahners
---
Electronic Buyers' News
---
Electronic Components News
Cahners
---
See ED

---
Electronic Distribution Today
See EDT

---
Electronic Engineering Times
See EET

---
Electronic News
Cahners
---
Electronic Packaging and Production
Cahners
---
Electronic Product News
See EPN

---
Hearst Business Publishing
645 Stewart Avenue
Garden City, NY 11530
USA

---
Electronic Systems Technology and Design Magazine
Charles H. Small
Senior technical editor
2565 Alvin Ave, #239
San Jose, CA 95121
USA
tel: +1-408-270-2539
fax: +1-408-270-5637
charles.small@worldnet.att.net

---
Subscriptions:
Quadrant Subscriptions Services
Oakfield House
Perrymount Road
Haywards Heath, Sussex RH16 3DH
UK
tel: +44-1444-445566
fax: +44-1444-445447
Jackie Lowe <jackie.lowe@rbp.co.uk>
rbi.subscriptions@rbi.co.uk

---
Electronics Australia Magazine
Jamieson (Jim) Rowe, Managing Editor
Electronics Australia Magazine
POBox 199
Alexandria NSW 2205
electaus@magna.com.au

---
Electronics Business News
See EBN

---
Electronics For You
India

---
Electronics Manufacturing International
See EMI

---
(Was earlier called 'Radio Electronics', it seems.)
Reader Service Dept
PO Box 5192
Pittsfield MA 01203-9989
USA
tel: +1-800-999-7139

---
???

---
Electronic Times
Miller Freeman
UK (?)

---
[Logo removed at the request of Elektor]

Elektor Electronics Publishing
PO Box 1414
Dorchester DT2 8YH
UK
tel: +44-1305-250995
fax: +44-1305-250996
editors@elektor-electronics.co.uk
Elektor - published in the UK and covers ALL aspects of electronics. It seems targeted to hobbyists so usualy they do not publish construction articles which require "leading edge"" or hard to find chips. Has a good balance between analog and digital. It's only drawback as I see it - no access to article related material (source code, PCB images etc) through the net/BBS because it seems they base part of their business on selling these.

---
Embedded Controller Magazine
---
Embedded System Engineering [?]
Embedded System Engineering,
Freepost CN284
Mitcham, Surrey CR4 3YZ
UK


This is quite an interesting read.


Steve Pettitt

---
Electronics Manufacturing International
PanEuropean Publishing Company

---
See Electronic Products.

---
---
Electronic Product News
PanEuropean Publishing Company
Europe's leading Electronics Magazine
edited in Europe
published in Europe
mailed in Europe
fully qualified 100% European readership
Reviews product information from all major industrialized countries in the world
Presents news in the easily digestible, time tested format of the product news tabloid
Allows busy readership of electronics professionals to access new product potential quickly
Reports on new electronics components, T&M, power supplies, design tools and related fields which are available in Europe
Twice yearly it also publishes the 'ELR' (Electronic Literature Review)

---
Embedded Systems Programming
Miller Freeman Inc.
525 Market St., Suite 500
San Francisco, CA 94105
tel: +1-415-278-5300
fax: +1-415-278-5340
Subscription Information
tel: +1-888-847-6177 - USA
tel: +1-847-647-8602 - International
fax: +1-847-647-5972
embedded@halldata.com - Subscriptions
lvereen@mfi.com - Lindsey Vereen, Editor

---
Everyday Practical Electronics Magazine
Wimborne, Dorset BH21 1PF
UK
alan@epemag.demon.co.uk - Alan Winstanley, Editor
TENS Unit User's Guide
The Basic Soldering Guide

---
InsideChips.com
Newsletter about the chips industry.
See InsideChips.com.

---
Intel Technical Journal
INTRODUCING THE INTEL TECHNICAL JOURNAL
After a decade as an internal R&D journal, we're publishing the Intel Technical Journal on the internet. This electronic, quarterly journal provides a forum for Intel's researchers and engineers to present their work directly to you. This first issue focuses on the research and technology developments underlying Intel's MMX(TM) technology.

---
Kluwer email alerting system
Kluwer's email alerting system will keep you on the cutting edge of research with announcements about:

Journal Tables of Contents - available as soon as the latest issue is posted online
New books - by the top scholars in their fields
New journals in your area of interest - with articles by the world's leading scientists
New electronic products - allowing you unprecedented flexibility and convenience in your research
Notification of special offers at upcoming conferences
And much more...
Visit the site to sign up for email services in Engineering, Mathematics, Computer Science or another field that is of interest to you.

---
(Formerly Computer Craft and Modern Electronics)
(Recently purchased by Midnight Engineering.)
76 North Broadway
Hicksville, NY 11801, USA
tel: +1-516-681-2922
CQ@genie.geis.com
or
Rocky Ford, Colorado
tel: +1-719-254-4558
Apparantly not available on many newstands.
Covers topics relating to personal computer hardware and also quite a bit on microcontrollers.
The 1996 March issue mentioned THIS ChipDir. (In an article by Jan Axelson.)

---
Micro Control Journal
27 Penrith Crest.
London, ON, Canada N6G 4M8
tel: +1-519-434-6904
fax: +1-519-434-6978
SGupta@mcjournal.com
Free publication.
It offers design and application of microcontrollers for industrial measurement and control.
It currently has articles on:
E2Programmer
Basic Stamp + 12 Bit A/D (With Basic source code!)
Interfacing to the HC11 (Keyboard and LCD, with assembler source code!) - Tutorial Series Controls-Part I
and more...

---
MicroDesign Resources
---
Microprocessor Report
Michael Slater

---
Microwave Engineering Europe
Published by Miller Freeman?

---
This magazine is published in Serbian, Romanian and English.
See:

---
Midnight Engineering
Midnight Engineering
Rocky Ford, Colorado
tel: +1-719-254-4558

---
???

---
Nuts and Volts
Corona, California
tel: +1-800-783-4624
tel: +1-909-371-8497
fax: +1-909-371-3052
74262.3664@compuserve.com

---
OpenSystems Publishing
OpenSystems Publishing

tel: +1-810-415-6500

tel: +1-810-415-4882
Publishers of:
Applied Computing
CompactPCI Systems
DSP Engineering
PXI Technology
VMEbus Systems
---
PC-based electrical engineering under Win95/NT

---
Popular Electronics
Popular Electronics
World Wide Subscription Service Ltd
Unit 4, Gibbs Reed Farm, Pashley Road
Ticehurst TN5 7HE, England
or
Farmingdale, New York
tel: +1-519-293-3000

---
Radio Electronics
See Electronics Now

---
Robotics Digest
(Combination of "The Robotics Practitioner" and the "Robot Explorer"?)
Bill Gates of Whirlwind Publications
tel: +1-719-254-4558
fax: +1-719-254-4517
102505.3055@compuserve.com
Full color, 80 pages long, many informative and enjoyable articles on practical robotic applications (mostly on walkers) and many great advertisements for robotic stuff.

---
Semiconductor Business News
---
Dave Richardson <drichardson@semiconductorfabtech.com> - subscription

---
Semiconductor Magazine
Published by SEMI (Semiconductor Equipment and Materials International)

When you qualify you can get a free paper subscription.There are 12 issues per year.
---
Cahners
---
Semiconductor Times
Cliff Hirsch, Publisher <cjh@semiconductortimes.com>
Semiconductor Times, a monthly newsletter, is the definitive source for the hottest semiconductor related startups: fabless chip companies, chipless chip companies, EDA, micro* displays, MEMS*. Tomorrow's hottest technologies brought to you today.
The web site features:
a downloadable PDF sample issue
semiconductor company earnings (check out the gross margins!)
on-line order entry form
---
Sensors Magazine
---
Silicon Chip
An Australian magazine

---
Important news from Techonline
We would like to inform you that the August issue of TechOnLine Review, the only Internet Newsletter written specifically for Electrical Engineers has just been released today, and you can find it on www.techonline.com

The newest edition of the Techonline Review provides in depth coverage oftoday's analog modem market. Three exclusive interviews with key modemleaders plus the opinions of another dozen modem experts will help you seethrough the modem fog. Find out why there's been so much confusion about56K modems, what the vendors are claiming, and where this is all heading.
Our website continues to evolve and improve. This month's websiteincludes information on over 50 new product announcements, take a look at the"What's New" and "News" sections of TechOnLine for the details.
The website now includes detailed information from new member companies:
Natural MicroSystems
Dipix Technologies Inc.
Traquair Data Systems
The Moving Pixel Company
Nyvalla DSP
Communication Automation & Control, Inc.
Z Domain Technologies, Inc.
DSP Technology
You can also view the newly updated details on TechOnLine from:
DSP & Multimedia Technology magazine has a new issue on-line.
Sanders, A Lockheed Martin Co, has several new job offerings
Synopsys has two new jobs online
MicroE has a new job online
Ericsson has a new job online
Loughborough Sound Images has new information on TechOnLine
Transtech Parallel Systems updated their site on TechOnLine
Raytheon E-System, Airborne Systems Division has a new job online.
GAO Research & Consulting Ltd. updated their site on TechOnLine
For details on any of these happenings, or for any other information about
DSP products, DSP companies, DSP events, OR* DSP news, go to the "Place to go
for Electrical Engineers"

---
Test and Measurement World
Cahners
---
Wireless Design and Development
(A member of the Reed Elsevier group.)
Wireless Design and Development
Gordon Publications
301 Gibraltar Drive, Box 650
Morris Plains, NJ 07950-0650
tel: +1-201-292-5100
fax: +1-201-898-9281
It is free for 'qualified individuals'. It has little editorial and lots of advertisements stuff.

---
Wireless World
See Electronics and Wireless World

---
Miscellaneous
---
External magazine overviews
---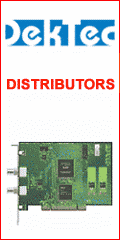 ---
---